INDIANA HARBOR BELT ARCHIVE
"Connects with all Chicago railroads"
Welcome to the Indiana Harbor Belt archive. Rosters, historical information, maps and photographs are available here for those interested in the nation's largest terminal railroad (nearly 400 track miles). The IHB operates as an independent road even though it is jointly owned by Conrail Shared Assets (51%) and Canadian Pacific (49%). However, Conrail's seats on IHB's board of directors are occupied on a 50-50 basis by executives of CSX and Norfolk Southern who provide governance and oversee operations. Conrail's IHB holdings trace back to Penn Central and before that, to New York Central who funded the creation of IHB out of several smaller railroads in 1907. Canadian Pacific's stake came from Soo Line, who had inherited it from Milwaukee Road. IHB is officially classified as a Class III railroad.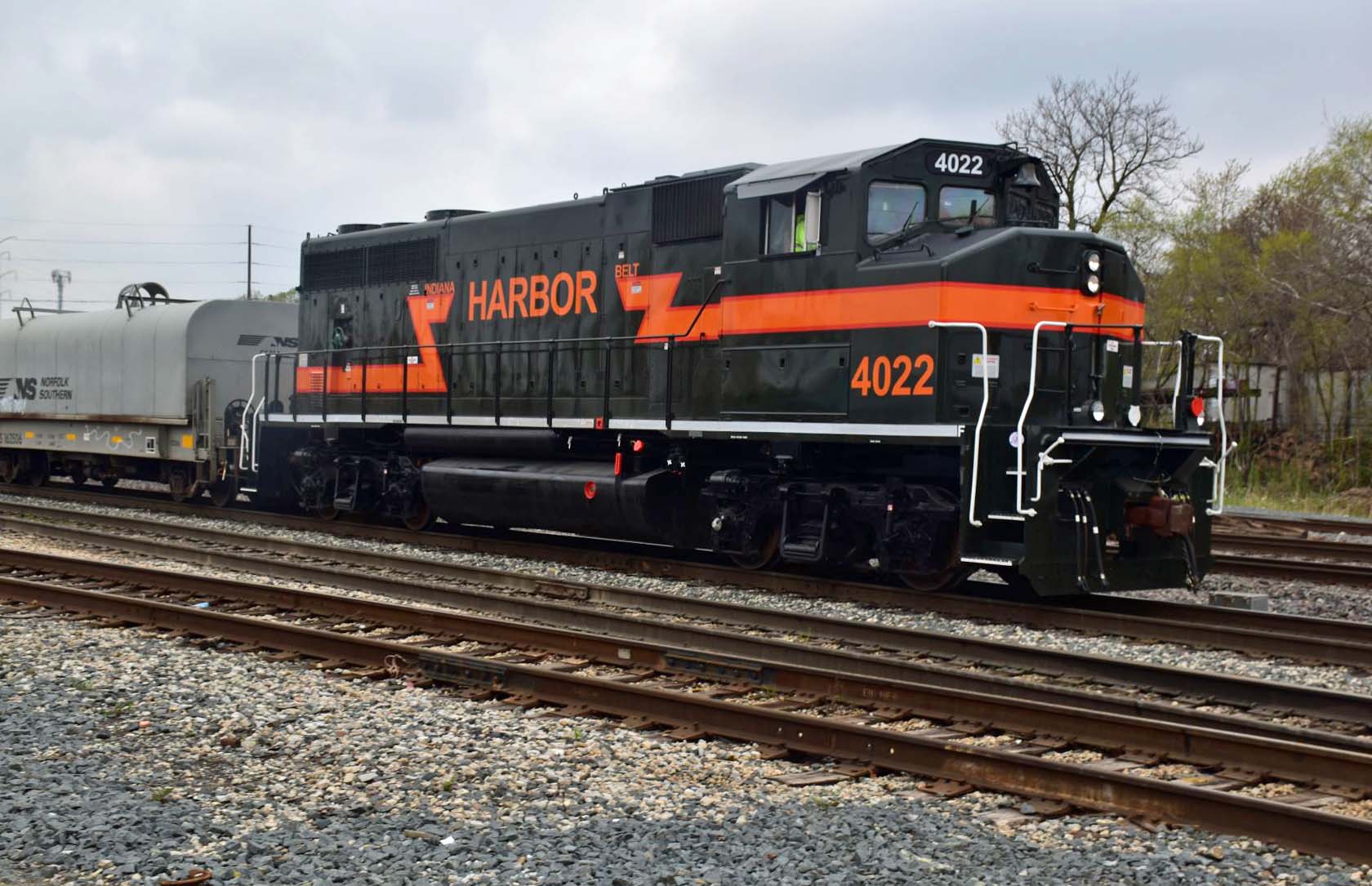 HISTORY
PHOTOS
ROSTER AND LIVERY DATA
MAPS
CONNECTIONS, TIMETABLES
IHB LINKS
CONTACT US
This is not the official IHB website; to reach it, go to the Links page.
The IHB main line extends 39.4 miles from Ivanhoe on the west side of Gary, Indiana, to Franklin Park, Illinois, near O'Hare Airport. It runs west from Ivanhoe through Gibson (Hammond, Indiana) to Blue Island, Illinois. There, it heads northwest and then north through Chicago's western suburbs. It is mostly double track. From Blue Island to a point near McCook, Illinois, the track and infrastructure are owned and maintained by CSX subsidiary, Baltimore & Ohio Chicago Terminal. However, IHB dispatches the entire route. In addition, the 7.1 miles of main line from Ivanhoe to Calumet Park, Illinois, is operated on a long-term lease agreement. From Calumet Park to Blue Island, and from McCook to Franklin Park, the track is owned outright by the Harbor.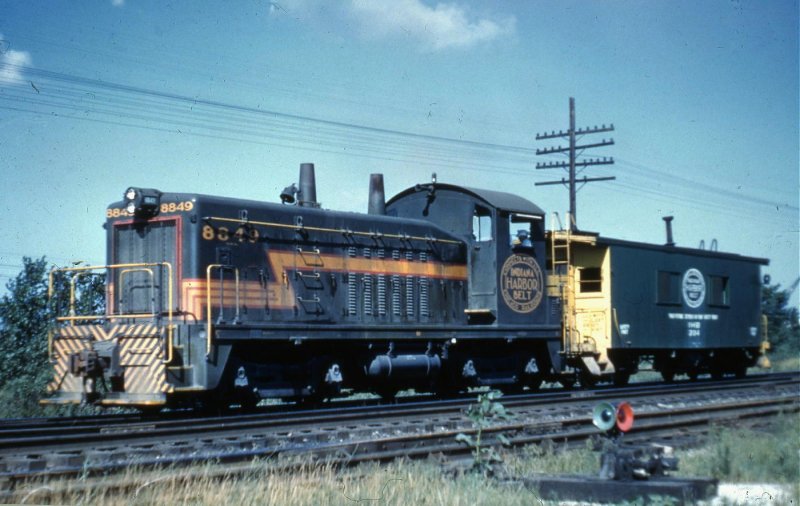 IHB has another major route known as the Kankakee Line. It extends south from the lakefront at Indiana Harbor (East Chicago, Indiana) to a point near the crossing of the now-abandoned Erie-Lackawanna railroad, a distance of about seven miles. The main and Kankakee lines cross in Hammond, Indiana at Gibson Junction, where the IHB shops are located. The IHB's headquarters building is also at Gibson.


Blue Island Yard, located near Riverdale, Illinois, is the heart and soul of the IHB. It is one of the largest and busiest yards in the Chicago area with 44 classification tracks and a hump for eastbound traffic. It is a major destination and origination point for most of the Class I railroads.


There are several other major yards as well. Gibson Yard in Hammond handles auto rack cars exclusively. IHB's shops, headquarters and servicing facilities are located at the east end of the yard. Michigan Avenue Yard in East Chicago marshals traffic for the steel industries along Lake Michigan, as does Lakefront Yard in the Indiana Harbor area. Lakefront also serves as an interchange point with other area railroads. Argo Yard serves the huge Corn Products plant near McCook, Illinois. Smaller yards like Burnham and Norpaul serve local industries and build transfer movements.


Approximately 40% of the Harbor's revenue is derived from transfer traffic between other railroads together with switching and trackage rights fees. The remaining 60% comes from online industries, and about half of that is related to the steel industry. A large chunk of the rest is derived from grain processing plants throughout the Chicago area.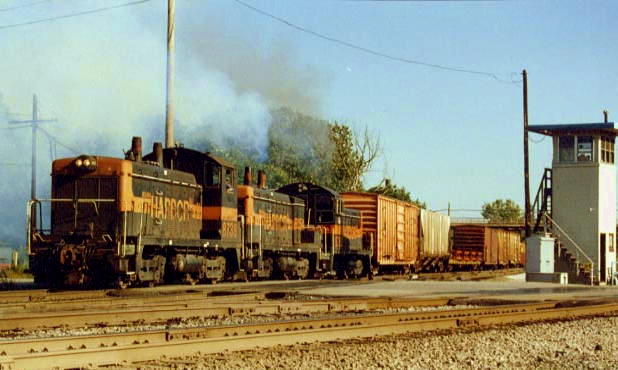 This website was originally developed by our friend "Lightnin" and many of his fine photographs have been retained. He was a great help in expanding the Archive. Sadly, he passed away in March, 2016, and this site is now dedicated to his memory. Thanks go also to Spence Ziegler, whose collaboration in developing the website was essential. It is hoped that you will enjoy looking through these pages and encourage everyone who has IHB-related photos and data to submit them for posting. More photos will be added in the future and other pages will be updated frequently. Check back with us often.


The four six-axle gensets (2160-63) have been retired. They will be scrapped later this year.
Four locomotives have now been equipped with PTC (4011, 4013, 1506, 1508) and more conversions are being planned.
The recently acquired GP40-2LW wide cab units (4020-4022) have been paired with three of the four-axle gensets that were converted to slugs. For details, see the roster pages. A photo of one of the widecabs is at the top of this page.
The SW1500 locomotives are being rebuilt and repainted in a "new" paint scheme very similar to the original Lightning Stripe livery of the 1950s. For a photo go to the Roster and Livery Data page, click on the "Diesel Locomotive Color Schemes" link, and scroll down to the bottom.
Four SW1500s (1504,1506,1508, 1514) have been converted to dual fuel compressed natural gas units. They are now designated RP15BDF.
In May, 2021, IHB puchased a rebuilt GP38-2 upgraded to Dash-3 standards, numbered 3800, painted in a unique "Salute Our Troops" scheme. For a photograph, go to the Photos page. Click on the thumbnail image in the top row.
--Bill Gustason.
NOTICE: The texts and photographs on this website are free for the taking as long as it is for your own personal use. If however any material from this site is downloaded for public use, whether in print or verbally or on the internet, the source of the information should be publicly acknowledged. No material on this site may be used on a for-profit basis without the authors' written consent. This prohibition applies to everyone, including publishers and authors of rail-related books and DVDs.